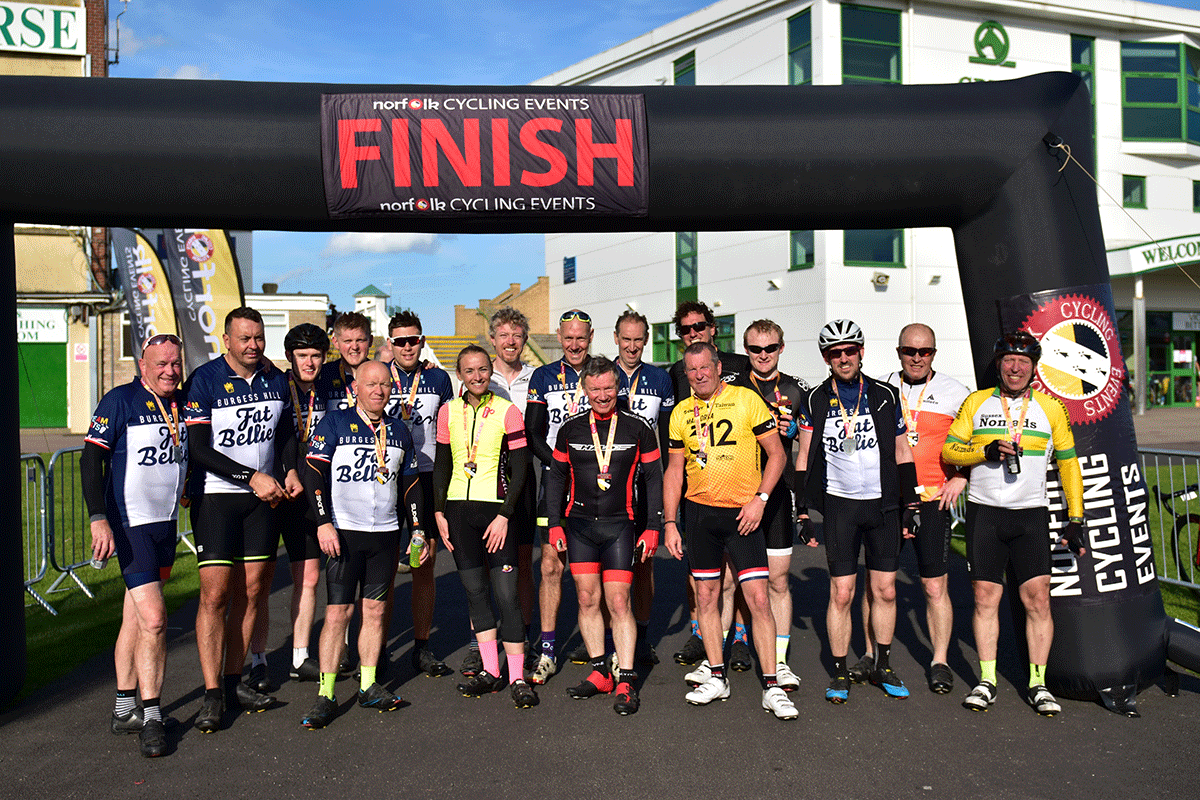 The Round Norfolk Epic -2023
The Round Norfolk Epic - 200 miles in one day!
This truly Epic day out in the saddle returns for it's 4th and final year in June 2023!
This event has been amazing for us and all the riders who have completed it but all good things must come to an end. We hope you can come and enjoy our last RNE with us. Every edition of the RNE has sold out and with limited spaces available we expect this event to sell out fast.

Starting and finishing at Great Yarmouth Racecourse, the route heads south out of Great Yarmouth before swinging south westerly towards Beccles. After Beccles you will be heading west towards your first feed-zone at South Lopham, on leaving the 'breakfast' feed-zone you will continue riding along the southern border of Norfolk passing through Theftord, Brandon and out into the fens where you will find your lunch stop at Outwell. On leaving Outwell you head north to King's Lynn. After King's Lynn you start to pick up the coast road and you will soon arrive at your next feed-zone at Thornham. From here it is now all coast road to Overstand, Keep your eyes peeled as you will be passing beautiful countryside and unspoilt sea views. Once at Overstand your last feed-zone, t's now the last push. The hills start to level out but the views are just as good. This is the shortest leg so you will be soon back at Great Yarmouth where you will receive a hero's welcome and your epic finishers medal.

The course is 200 miles over one day. It really is a great challenge and a truly epic ride. This event is limited to 300 spaces and we expect it to sell out fast so please book up early to guarantee your place.

At the end of the event there will be a selection of caterers, post event massage and a great atmosphere where friends and family are invited to help you celebrate your epic ride.

The medals are going to be fantastic again in 2023 with yet another new design. The design team are on it! Once we have a proof we will announce it
There will be 4 feed-zones around the course at approx. 40 to 45 miles apart.
Feed-zone 1 will have Breakfast items such as croissants / brioches etc.
Feed-zone 2 will be the lunch stop, consisting of sandwiches, crisps, flapjack and fruit
Feed-zone 3 will be the coffee and cake stop
Feed-zone 4 will have savoury items as you will most probably have had enough of sweet treats and will be craving some salt.

Feed-Zone Locations:
Feed-Zone 1: South Lopham 44 miles
Feed-zone 2: Outwell 95 miles
Feed-zone 3: Thornham 132 miles
Feed-zone 4: Overstrand 168 miles
On the event morning you will be issued a musette / draw string bag. This will serve as your change of clothing bag and nutrition bag. You can fill this bag with whatever you want. It will be taken to the 2nd feed-zone at Outwell and once all riders have passed through will be taken back to Gt. Yarmouth ready for collection at the finish. This bag has served riders well in the past as they have been able to change their cycling kit, take off layers, top up their suntan cream and chamois cream and take their favourite nutrition to carry on their remainder of their ride
On arrival at the finish you receive a hero's welcome and be awarded your bespoke premium medal. There will be a chance to pose for a celebratory photo and we will also have music and a selection of caterers on site providing food to help replenish your lost calories.
Due to the nature of this event, there will be a cut off time at each feed station. This will be based on a average speed of 12mph and will include your stops to ensure everyone finishes by dusk.
Event Information
Sunday 18th September at 11:59pm
200 miles:
200 miles 6 for the price of 5
£67.50*
£337.50*
*plus £2.50 booking fee.
Minimum rider age 18 on day of event.
Great Yarmouth Race Course, Jellicoe Road, Great Yarmouth, Norfolk, NR30 4AU
Yes if the event has not sold out + £10 extra
Will be emailed when online entries close.
​• Event Centre Facilities
• Musette/drawstring style bag
• Event T- Shirt
• Free Parking
• Event Specific Finishers Medal (70mm)
• Event Photography
• Free Energy Drinks and Snacks at Feed Zones
• Full Route Marking
• Garmin + GPX Downloads
• Event Catering
• Mechanical Support.
• First Aid at Event Centre and feed zones.
• Broom Wagon
• Emergency Support
Please note that the minimum ride speed is an average of 12mph including rest stops.
This will be a truly epic and you will want to show it off!! As soon as we have a proof of the design we will get them online. Trust us you won't be disappointed!
In 2019 we had Sportive.com along for the ride, To read their report on the Round Norfolk Epic please click here.
1: Great day out! Started with my alarm clock at 2am! Four well placed feed stations kept me going nicely to the end.
2: Fantastic day out. I met some great people. Feed stations, welcome home and organisation were superb. I will be back!
3: What an absolutely brilliant day. Couldn't recommend it enough.
4: Great event as ever. Well organised, good route, pre-event communication with friendly organisers, well stocked feed stops. Cracking event but hard work!!
5: What a great day. Well organised with well stocked rest stops. Lots of team work on the road and a mid-ride shower didn't dampen our spirits.
6: Fantastic event! Very well planned and delivered. The hardest thing I have ever attempted but the most rewarding. Looking forward to the next event.
7: Great event. I was really impressed with the organisation, food choices and route! I highly recommend it!